The Grapevine Art & Soul Salon
Musings on Being and Becoming Human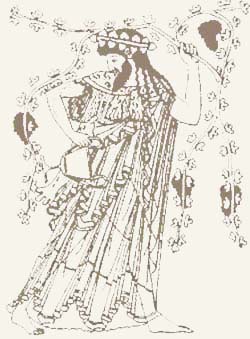 Issue 16
The Fluttering of Pure Life: An Exploration of Reverence
The experience of reverence has been with us time out of mind, one indication that it is authentic to human nature. We read a historical description of a Native American ritual in which a priest greets each morning by spitting into his palms and holding his hands up and eastward, offering this substance of himself to the rising sun. We still see reverential gestures among patriots with hands over hearts while singing national anthems, among Christians kneeling and praying with hands folded, and among Hindus going about their ordinary lives as they greet each other by pressing palms together and saying, Namaste, a word sometimes translated from the Sanskrit as, "I greet the god in you." Yet we can tell that such gestures nowadays are more often than not rituals of habit rather than passion. The importance of this loss of vitality in our relational outlook needs significant attention for the sake of our individual lives, for the sake of our communities ... human and otherwise ... and for the Earth which is our home.
D. H. Lawrence's work is a long and rich exploration of reverence toward the mystery of embodied life. When he writes There is no god apart from poppies and the flying fish, men singing songs, and women brushing their hair in the sun, he is not speaking as an atheist; he is insisting that there is divinity in the very real world images that describe what we all might see at any moment if we had eyes to see such gleaming.
Lawrence understood that irreverent expression also plays its part by deflating what is puffed up, phony, contemptuous, exploitative, abusive, wasteful, destructive. But his heart and mind are aroused by passionate response to what he calls "the fluttering of pure life," so that he can ask,
What is the good of a man
unless there's the glimpse of a god in him?
And what's the good of a woman
unless she's a glimpse of a goddess of some sort?
Poet/songwriter and performer Leonard Cohen can see the gleaming. At his 2013 concert in Atlanta's Fox Theater, again and again Cohen glided onto his knees to signify his worshipful passion toward the women of his songs, toward his musicians and the listening audience. Among the audience were women standing in the aisles, swaying and holding their hands up toward the stage, enchanted by this man who understands that Eros is a god and that sensuality increases in the presence of reverence.
Lawrence describes his own experience in this way:
I feel absolute reverence to nobody and to nothing human,
neither to persons nor things nor ideas, ideals nor religions nor institutions,
to these things I feel only respect, and a tinge of reverence
when I see the fluttering of pure life in them.
But to something unseen, unknown, creative
from which I feel I am a derivative
I feel absolute reverence. Say no more!
Lawrence and Cohen in their work exemplify artists who practice for all of us the art of paying attention. Both know that reverence is necessary for love, for soul, for vitality. Both carefully tend the sacred and make it so that we can see and hear and feel what they are doing. Concerned about what we are losing in the way of a living, nurturing relationship to our world, an increasing number of contemporary philosophers, psychologists, and even physicists, are joining artists in calling our attention to ways that refresh our awareness of the many dimensions of reality, ranging from the scientific to the imaginative, all ways we need to weave together in our world view to live satisfying lives and to save the world that sustains us.
Scholar and philosopher Jacob Needleman in his book What is God? discusses this interesting idea: for humans, the quality of our attention is the key to the meaning of our lives and the possible growth of our being (204). He gives his idea context:
I could understand through experience that our lives are what they are in large part because of the weakness and passivity of our attention. We are taken, our attention is taken, swallowed, by our streams of automatic thought; we constantly disappear into our emotional reactions; we are taken by our fears and desires, our pleasures and pains, by our daydreams and imaginary worries. And, being taken, we no longer exist as I, myself, here. We do not live our lives; we are lived and we may eventually die without ever having awakened to what we really are, without having lived (204-5).
Needleman builds a good case for his thesis, I am my attention. "Everything else is given," he says, suggesting that it "is not mine." But attention, he discovers as he works through this attempt to expand our awareness of the word, is "close to hand." It is "in me, in my mind, in my selfness." He can "put it on this or that" or "let it go." He refers to it as "this small, thin capacity, this tiny spark of uniquely human freedom" (205). He describes a quality of attention that he says is becoming more and more rare in our common world. And it is this 'something' that desperately needs to pass between people. It is the mutual flow of this special quality of attention between human beings that all people, whether they know it or not, are starved for (107).
I recommend reading Needleman's book for an extended discussion of the kind of attention he is talking about here. It has to do with a readiness to be attracted to the things and places and persons of the world, with looking and listening and touching ... all qualities of intense interest infused with an attitude of reverence that inspires gestures of humility like bowing or kneeling or folding hands together. Reverential gestures express our longing to acknowledge outwardly what we feel inwardly about the mysteries of life.
As we consider each issue of The Grapevine, we find ourselves on the lookout for the fluttering of pure life and for the special qualities of attention and reverence shown by those who recognize what is sacred and create from that experience.
May you find satisfying reflections and good conversation in what we have gathered here, including presentations of poems by Anne Fields, Anne Lovett, and Barbara Knott, reviews by Charles Knott, Nancy Law, and Barbara Knott, a new column devoted to the implacement of The Grapevine in the city of Atlanta, pages on the importance of two Shakespeare venues and the theater work of Chris Kayser and Brenda Bynum, the regular columns hosted by Jonathan Knott and Ravi Kumar, reverential gestures toward three beloved artists who became eternal muses this past year, and a new link to a website where you will find much to please eyes, ears, mind and heart.
REFERENCES
D. H. Lawrence, The Body of God: a sequence of poems selected & arranged by Michael Adam with woodcuts by Barbara Whitehead. The Ark Press, 1970, p. 10.
Jacob Needleman, What is God? Penguin, 2009.
* * * * * * * * * * * *
AT HOME here are writers speaking in a style more conversational than studied for an audience who might be seated on a front porch at night watching fireflies create random small rays to light up the listening, or in the dining room of an ancient inn with lamps and perhaps a hearth fire to kindle community.
It takes only one or two steps of the imagination to move through the dusk to the dining room at the inn or the porch of a house or, by daylight, to a backyard garden for picking grapes and for gossiping, a verbal mode associated with the term grapevine. We say I heard it on the grapevine, referring to rumor, advance news of interest to the community, sometimes scandal, always a dramatic story or piece of a story, circulating, making the rounds, lingering on the surface even when it suggests hidden things.
The SALON presents a variety of storytellers and image makers and thinkers, from promising beginners to seasoned artists of mature and full-bodied talents.
The Grapevine Art & Soul Salon welcomes comments from visitors. General inquiries can be sent to webmaster@grapevineartandsoulsalon.com. All our regular contributing writers can be e-mailed directly (click on Contributing Writers column and open specific pages for e-mail addresses).
Opinions expressed on this site are the opinions of the authors themselves, not necessarily of The Grapevine Art & Soul Salon. Each page on this website should be read in conjunction with this disclaimer.
Editor: Barbara Knott
Associate Editor: Jonathan Knott
Image Design: Bill Kennedy
Contributing Writers: Ravi Kumar, Bill Kennedy, Nancy Law, Anne Lovett, Charles Knott, Anne Webster, David Price, Anne Fields.

Copyright 2013, Barbara Knott. All rights reserved.